KDM Engineers Group is a renowned and leading civil engineering firm that aspires to become a center of excellence in the construction sector by bringing together civil engineering consultancy and services, as well as training, under one roof.
KDM Engineers Group uses a well-structured quality assurance and management system, as well as a strong commitment, to supply clients with complete solutions. Our company strives to maintain unwavering efforts in the pursuit of optimum and high-quality solutions.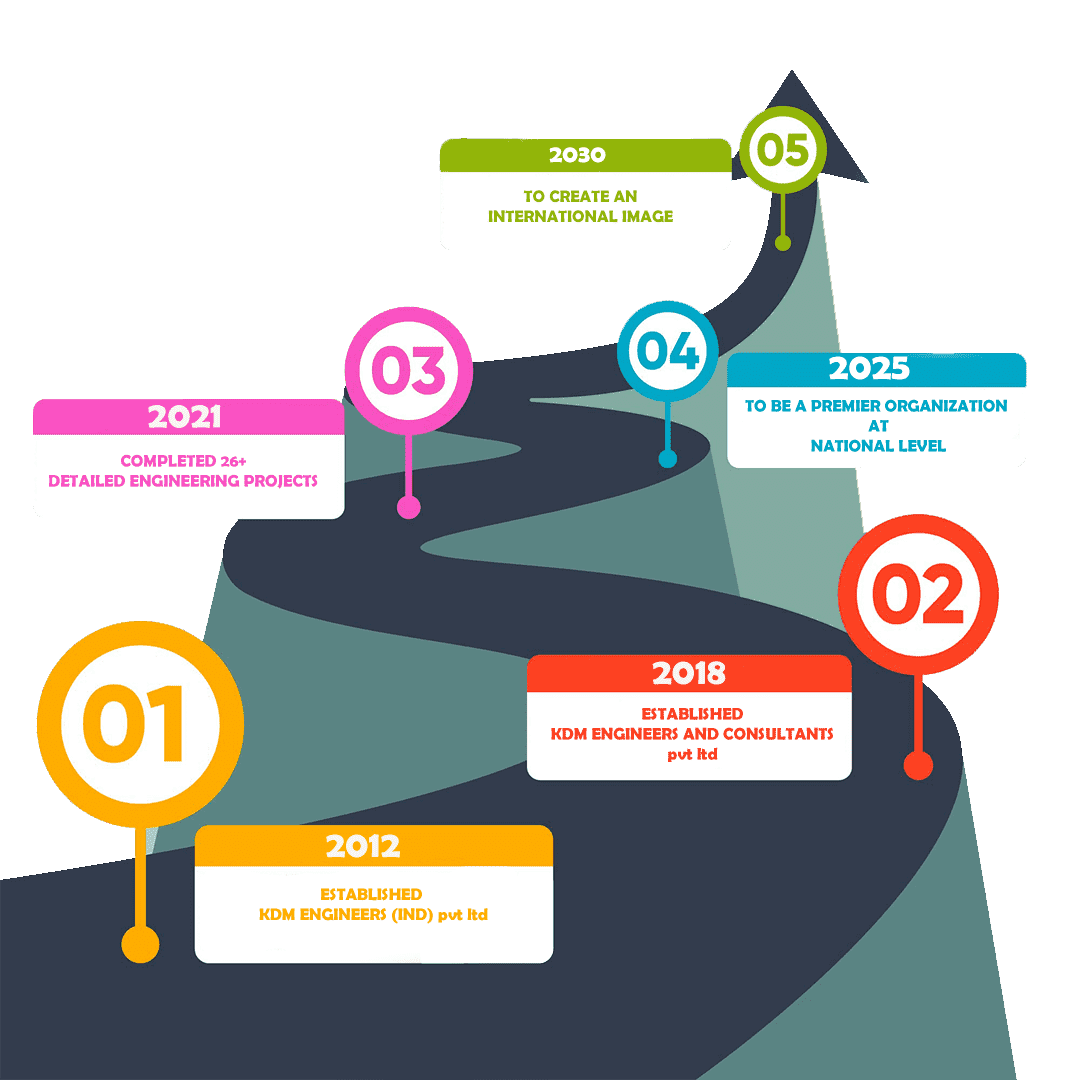 To bring Civil Engineering Consultancy & Services, Training and Rehabilitation Technology under one roof and to become a center of excellence and approachable for construction industry.
To update and enhance our processes in tune with the latest technology to maximize the efficiency of our services and improve the standards. To make significant contribution for sustainability of industry through technical and trained manpower.
An advisory committee with eminent experts in the related fields as mentors, Trained, qualified and experienced manpower, State- of-the art equipment.
Integrity
Social Commitment
Customer Delight
From the year 2012, The KDM Engineers Group has been providing services to numerous clients across the country and also established two wings namely KDM Engineers and Consultants Pvt. Ltd. and KDM Engineers (India) Pvt. Ltd. to provide optimum engineering solutions in all aspects. The efficiency of services and commitment towards work has placed the KDM engineers group at the highest level in the construction industry.
Our integrity, resources and prompt completion of projects have put us on the radar of major infrastructure companies.
The KDM Engineers Group has never left any stone unturned and is constantly one step ahead of the obstacles, striving to provide the client with satisfactory service as promised.
Technical Advisory Council & Engineer in Chief (Retd),Water Resources Department, Govt. of A.P.

Chief Engineer (R&B) Retd. ,Additional Director General , NAC, A.P.

Managing Director, Design Tree consultants, Bengaluru and Hyderabad

Chief Consultant, Continental Designers and Consultants, Hyderabad.

Technical advisor - Structural Health Monitoring/ Assesment and Rehabilitation

Technical Advisor - M. Tech, Ph.D,Formerly Prof & Head

Head-Operations(Chemical Division) - M.Sc (Analytical Chemistry), Ph.D

DGM - Business Development

Technical Manager - M. Tech

Manager - Structural Health Monitoring/ Assesment and Rehabilitation

Senior Manager - Contracts
Note: Carousel will only load on frontend.