Structural Health Monitoring, Assessment & Rehabilitation
We provide solutions for health monitoring & assessment of civil structures for understanding the global behavior by instrumentation at strategic locations. Finding parameters such as acceleration, modal frequencies, displacements, stresses, strains, and forces induced under dynamic loading.
KDM Structural Health Monitoring(SHM), Assessment & Rehabilitation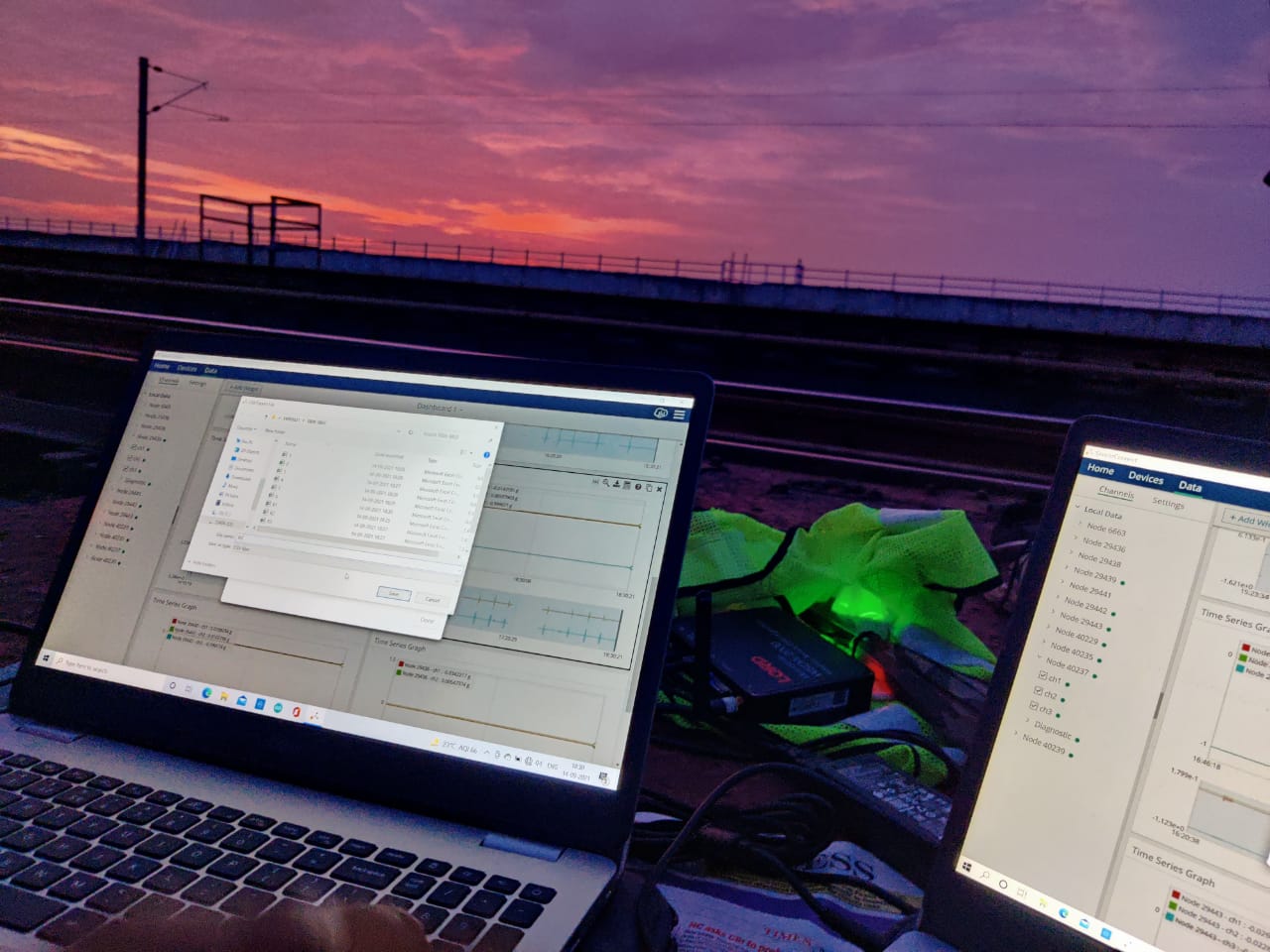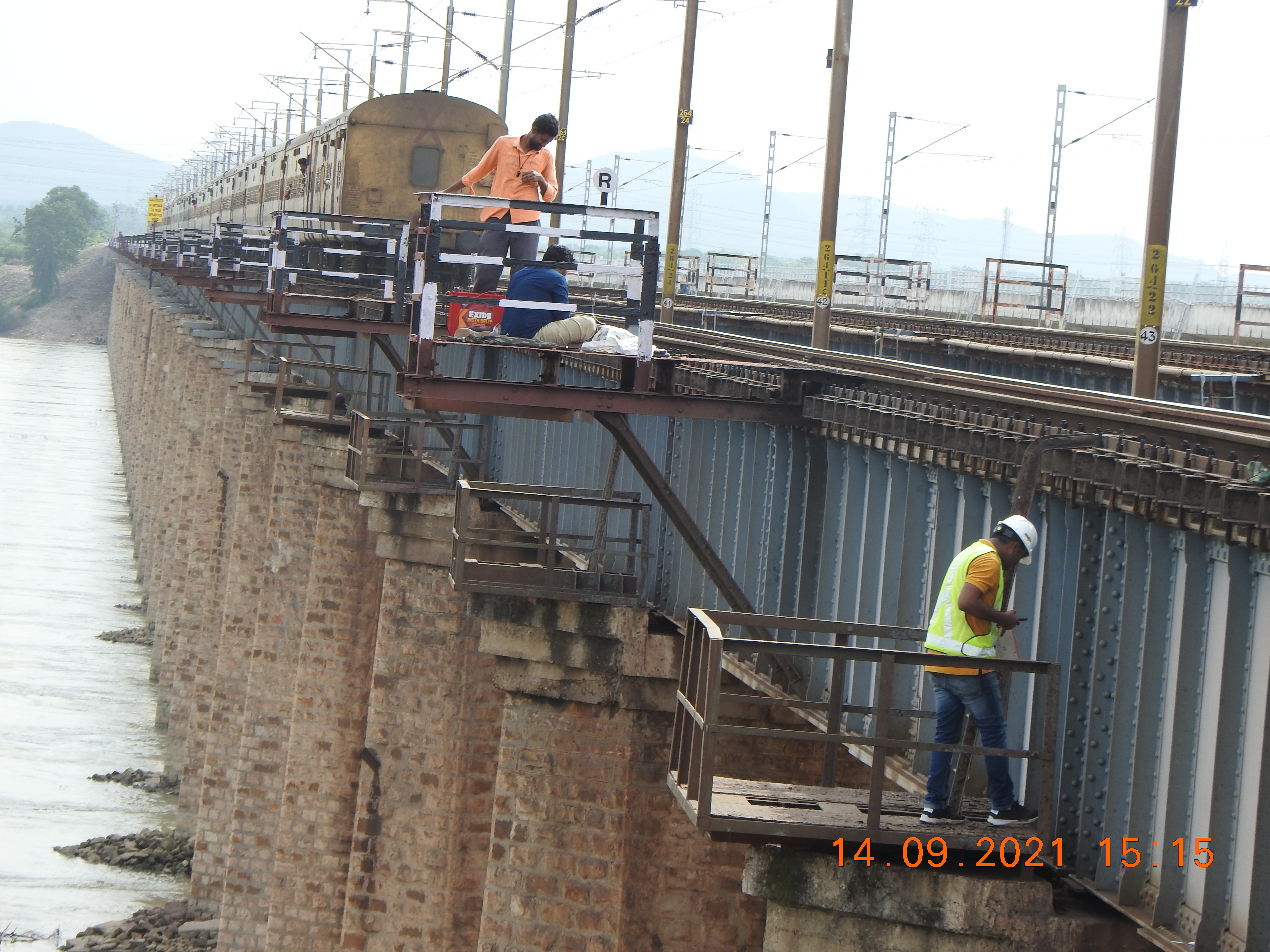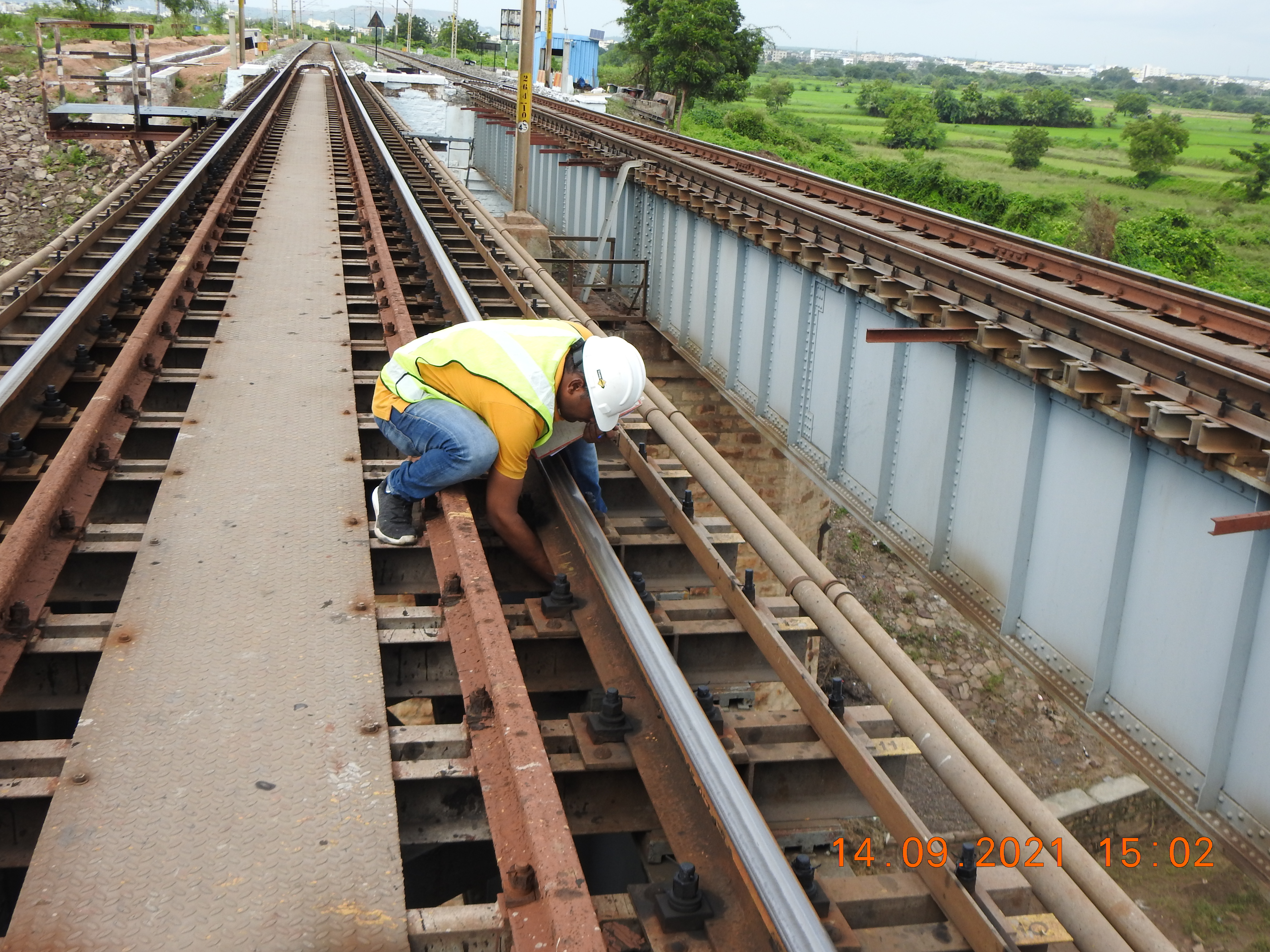 Structural Health Monitoring
Long-Term (Live Monitoring) Monitoring of Structures.
Modal Analysis
Condition Assessment and Condition Mapping.
Consultancy Services for suggesting Remedial Measures, Structural Strengthening, and Rehabilitation.
Non-destructive / Semi-destructive testing to check the Integrity of Structures.
Rail Structure Interaction studies and Instrumentation Works on Railway Bridges.
Bridge Load Testing, 
Pier Tilt / Rotation Monitoring
Scour Monitoring
Water Level Monitoring
Drone Inspection
Complete Temperature Monitoring
Strain Monitoring
We have been collaborating closely with various research institutes to integrate the hardware and software at our own laboratory to make use of various sensors, Automated data collection and analysis for structural monitoring for a complete Design-to-service Solutions.
Accelerometer
Inclinometer/Tilt Sensors
LASER scanning
IoT devices
RFIDs (Radio Frequency Identification)
Acoustic emissions
MEMS
Velocity Transducers
Temperature Sensors
GPS
Weather Stations
Water Level Monitoring
Scour Monitoring
Strain Measurement
The Process of systematizing a damage detection and characterization techniques. It is a non-destructive in-situ structural evaluation method that involves several types of sensors embedded or attached to the structures for the
purpose of assessing the actual conditions of the structures. Global and local structural behavior are considered on the basis of real-time data aggregation.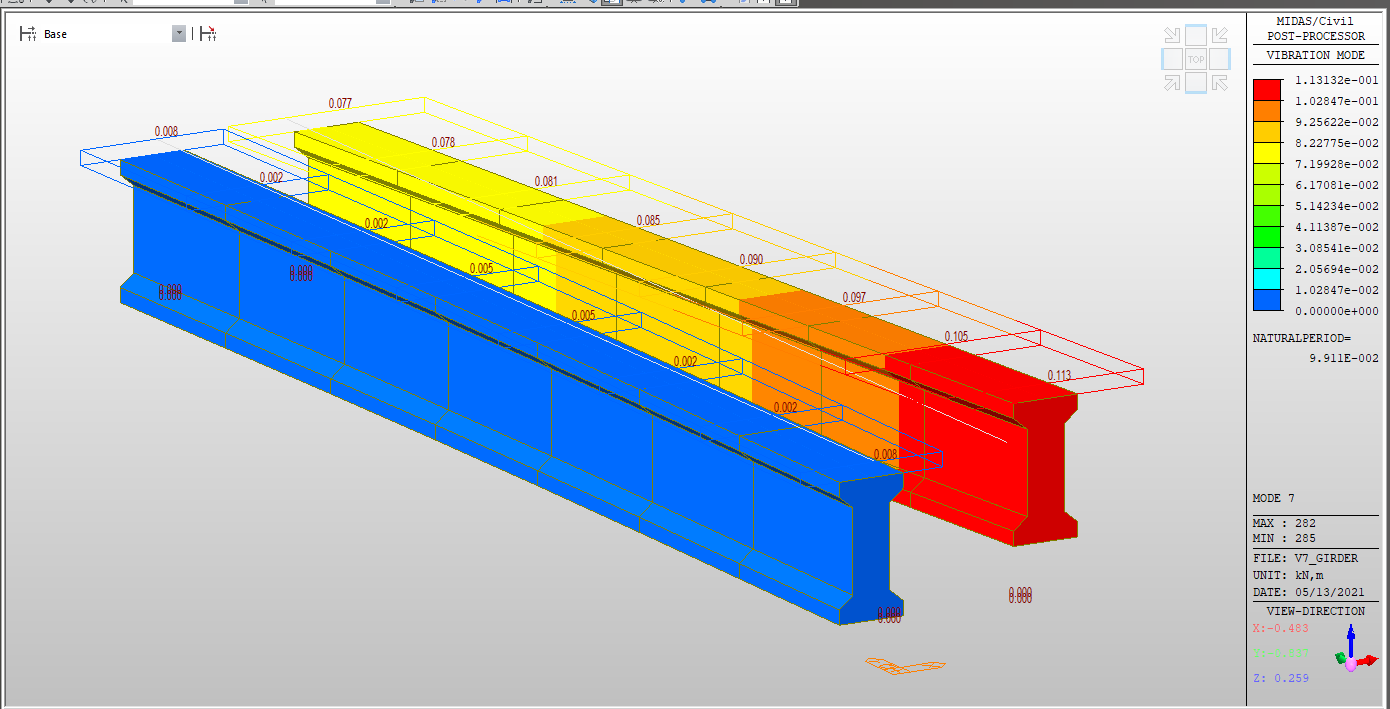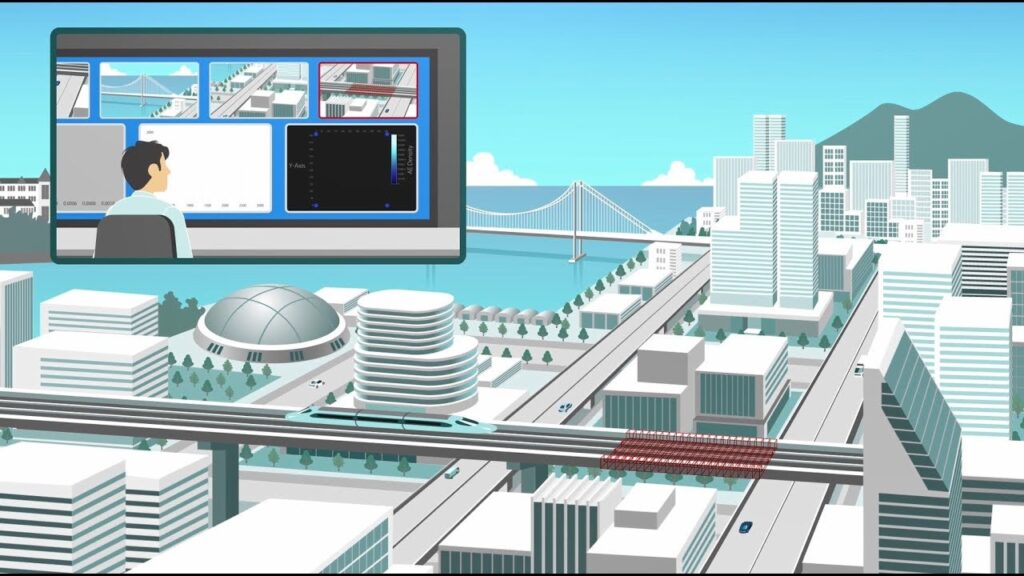 SHM provides a tool to ensure structural  integrity and safety, detecting the growth of damages, and valuating the performance of infrastructures.
SHM Work for Critical Structures like:
Bridges
Rail Structures
Wind Turbines
Tunnels
Power Plants and Dams.
Historic Buildings
Offshore Structures (Ports, Harbors)
All Types of Structural Applications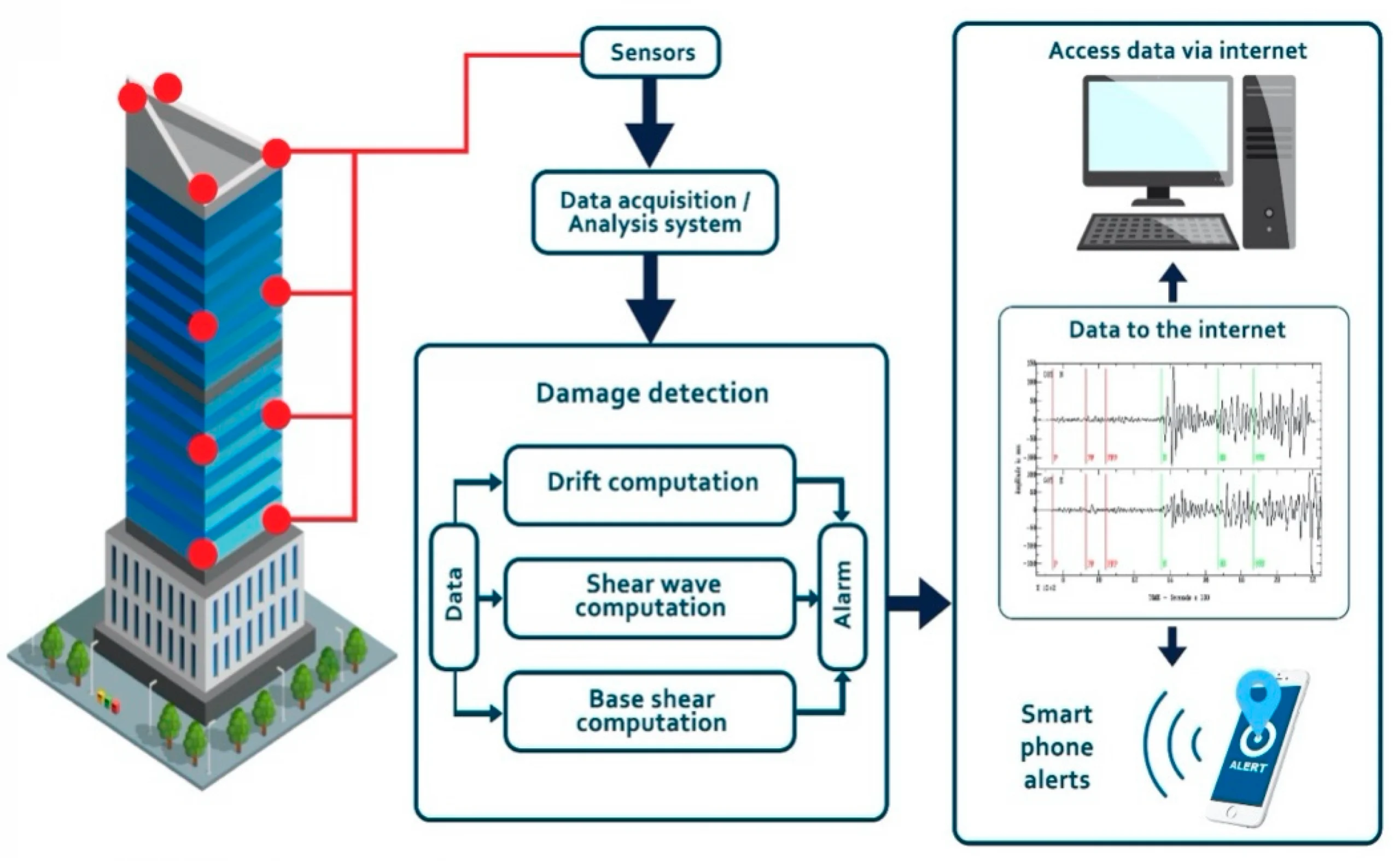 Performance Enhancement of an Existing Structure
Identifying Structures Affected by Any External Factors
Continuous Health Monitoring
Reduction of Uncertainty
Discovering Hidden Structural Reserves
Examining Deficiencies
Structure's Long Term Quality Promotion
Asset and Engineering Knowledge Elevation
Asset Lifespan Extension
Post-earthquake Structural Integrity
Operational Evaluation
Improve Performance (Safety and Functionality) of Existing Structures
Help to Design Better Structures in the Future
Observers to Assess the Structure's Condition and Its Remaining Life Span
Data Feature Extraction
Statistical Models Development
Cost Reduction, Cost-effective Maintenance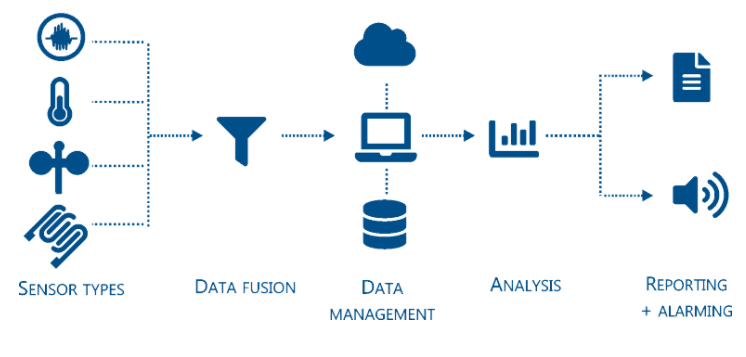 Installation Preprocessing
Initial site visit and investigate to find and install the exact locations of the sensors.
Make the surface suitable for installation of sensors with help of Epoxy glue, Magnetic base, clamps etc.
Some sensors we can fix directly on the structural elements. Or else using 'L' clamp for sensor installation.
Most of the instruments are
working with DC power. We
are preferring Solar, battery
power, generator and direct
power supplies
We are using various sensors for various application.
Like Accelerometer, tilt meter, strain gauge, displacement sensor, temperature sensor, load cell etc
Data acquisition from wireless and inertial sensors. Aggregator collecting sensor data.
From this aggregator we can directly collect sensor data through Ethernet & SensorCloud, MicroUSB.
Data is securely stored, viewed and analytic operations/alert set up.
MIDAS Software for Structural Modelling & Analysis.
Sensor Connect is specially designed software for plotting the aggregator received data.
Most of the instrument manufacturer providing their own software's for analysis.
Advanced SHM Instrumentation & Data Aggregation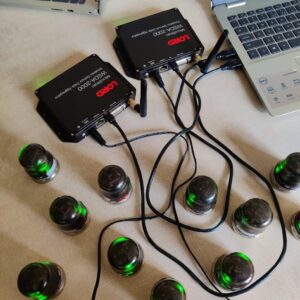 The triaxial accelerometer allows high-resolution data acquisition. It can record vibrations up to ±8g with extremely low noise and drift. Derived vibration parameters allow for logarithmic monitoring of key performance indicators.
These wireless sensing systems are ideal for testing and measurement, remote monitoring, system performance analysis, and embedded applications.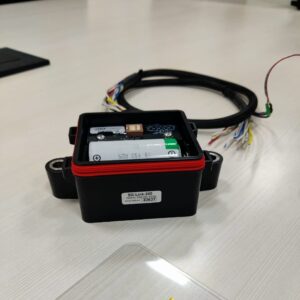 A Strain gauge is a sensor whose resistance varies with applied force; it converts force, pressure, tension, weight, etc., into a change in electrical resistance which can then be measured.
When external forces are applied to a stationary object, stress and strain are the result.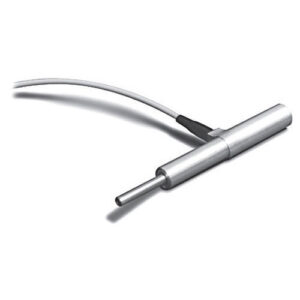 An LVDT consists of a metal rod that moves inside an electrical coil. A force applied to the rod results in a displacement that affects the inductance of the coil.
It is a common type of electromechanical transducer that can convert the rectilinear motion of an object to which it is coupled mechanically into a corresponding electrical signal.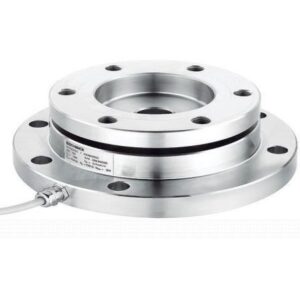 Most used load cell is the strain gage load cell.
Several strain gages mounted in a Wheatstone bridge configuration so that the application of a force causes a strain in the assembly the strain gages are measuring.
These devices are calibrated so that the force is directly related to the resistance change. pneumatic and hydraulic load cells translate force into
pressure measurements.
When force is applied to one side of the piston or diaphragm, the amount of pressure (pneumatic or hydraulic) applied to the other side to balance that force is measured.
Long Term – Real Time Health Assessment
Long-term – Real-Time Health monitoring
One month to an unlimited number of months of continuous recording
Offline, Online, and Cloud data aggregations
Short Term – Real Time Health Assessment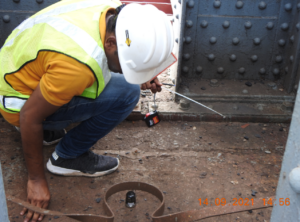 Short-term – Real-Time Health Monitoring
Summer, Winter, as the client request
Offline, Online, Onsite, and Cloud data aggregations
Permanent installation while construction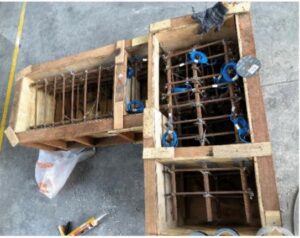 Permanently installed while construction.
It's life long monitoring methodology
Low-cost instruments
Internal monitoring method
Navadgi Bridge Rail Structure Interaction (RSI) Validation for Bridge No....
Read More
Jagdalpur Bridge Rail Structure Interaction (RSI) Validation For Bridge No....
Read More
Raipur Bridge Rail Structure Interaction (RSI) Validation For Bridge No....
Read More
Mancherial Godavari Bridge Structural Condition Assessment For Bridge No. 142...
Read More
Rajahmundry Bridge Structural Health Monitoring for Bridge No. 248 –...
Read More
Bridge between Rahenbhata-Titlagarh station Rail Structure Interaction (RSI) Validation for...
Read More